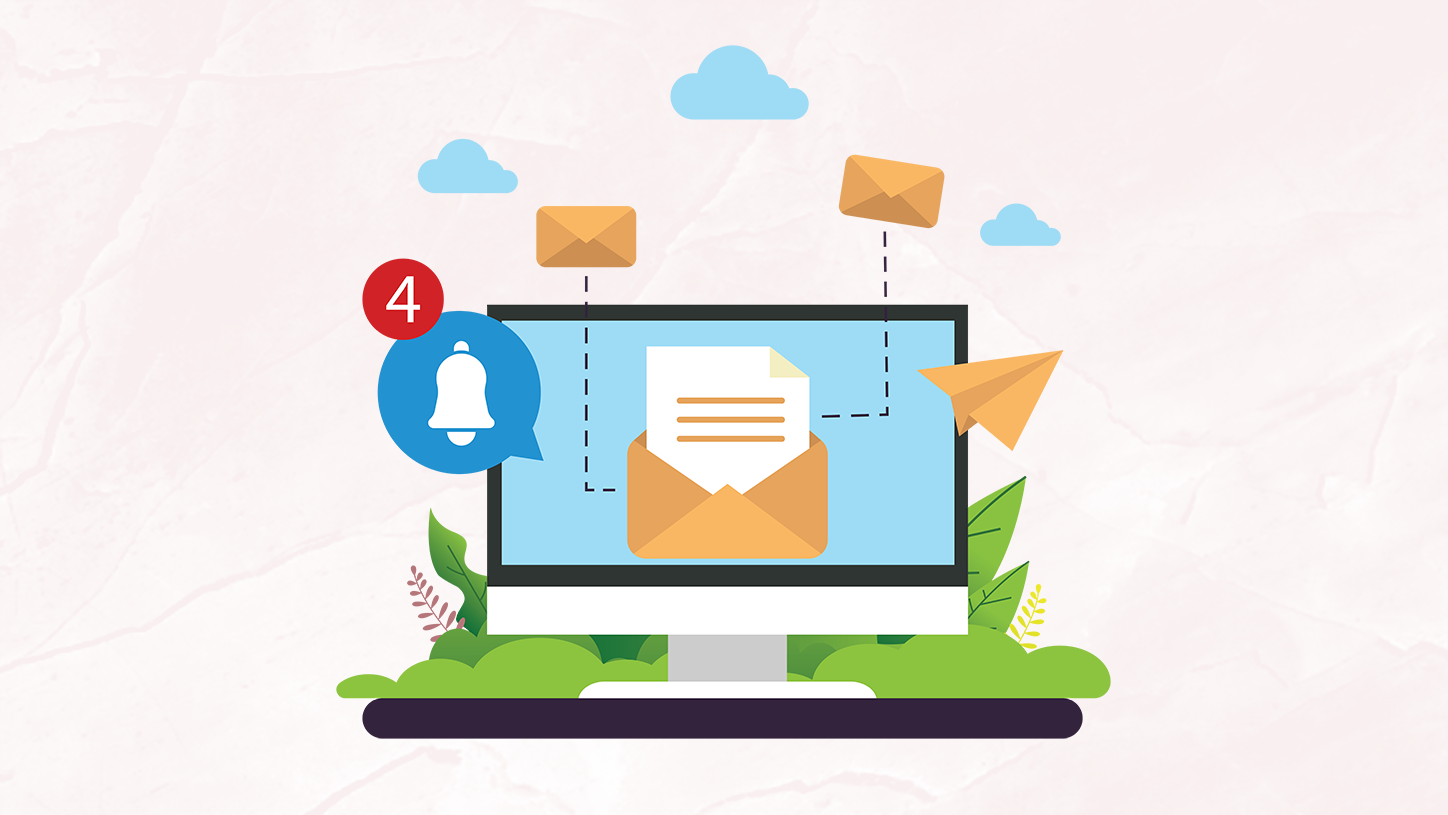 Marketing trends evolve with time but email marketing is the trend that has remained the same. Email marketing is the best way to stay in touch with your website visitors and turn them into loyal customers. Also, there are many email marketing services on market to make your email marketing easier. Here we shall discuss email marketing and why you need email marketing for your business. Also, we will know what is email marketing service what features you need to look for in email marketing service. Lastly, the best email marketing services out there.
What Is Email Marketing?
Email marketing is the use of email to promote products or services while developing relationships with potential customers or clients. It's a powerful content marketing technique that many e-commerce businesses use today. Via email marketing, your company can promote sales, new product or service releases, and achievements, plus share helpful, non-sales content with your audience. You can send commercial email messages to contacts who have signed up to your email list and given express permission to receive email communications from you.
Why You Need Email Marketing for your business?
Do you know why you need email marketing for your business? There are several benefits of email marketing. Let's check some of them:
Creating personalized content:
With email marketing, you can customize your campaigns, create targeted content and target people based on their interests. You can create individualized content based on segmenting your audience so you send the right emails to the right customers. If someone made a purchase and provided their email, you can use email marketing to ask for reviews or send suggested items to build on that purchase. You can address each subscriber by name and send emails in your subscribers' time zones so every email feels extra personal. One of the main benefits of email marketing is that your content can be highly personalized to your audience's needs. Your emails might have variations including different images or subject lines to increase your engagement.
Better brand recognition:
Email marketing is a great way to develop your brand identity because it gives you a direct line to the email inboxes of customers. Each time an email is sent to consumers, products and services are reinforced. They become familiar with your products, services, and company as a whole. This helps to keep your company's name top of mind when it comes time to make a purchase.
Drive revenue:
Email marketing allows customers to go from witnessing an offer to purchasing an item within two clicks of a button. With a tempting call to action and a link straight to the checkout, email newsletters can drive sales like no other channel. That's how email marketing is great for taking advantage of impulse buying. That's the reason 59% of marketers say email is their biggest source of ROI and increase in revenue.
Generating traffic to your site:
Emails are a great way to get customers to visit your website. If you share content from your website in your emails, you increase the likelihood that someone who sees your emails will link to your content. Keep in mind that each email should contain a call to action so readers can click through to your site.
What is Email Marketing Service?
Email marketing service is exactly what it sounds like; it's a solution that can power your email marketing efforts. Email marketing service is software that marketers use for email marketing. This software can be used for a variety of different purposes, from growing a list of email subscribers, to designing and building customized email templates, to creating segmented lists for more targeted, relevant emails to be sent. With a variety of services, resources, and tools, the software allows marketers to do much more than simply send emails.
What Features You Should Look for in an Email Marketing Service?
There are tons of email marketing services out there to help you with your email marketing. But it's important to note, not all email marketing tools offer the same features. Here are the top features to consider:
The rich selection of email templates
Drag and drop editing tool
Custom fields for personalization
Mobile-ready for the mobile world
Built-in design and spam testing
Reasonable sending limits and unlimited options
Flexible pricing
Rich reporting capabilities
Seamless surveys
Integrations and plugins with other core tools
World-class support
5 Best Email Marketing Services:
Are you searching for an all-in-one marketing platform for engaging with your contacts and building better customer relationships? Then Sendinblue email marketing service is the best option for you. It covers marketing automation, email marketing, SMS marketing, chat, Facebook Ads, CRM and sending transactional messages via email and SMS. In a sentence, Sendinblue is the email marketing service that's capable of taking care of the entirety of your email marketing needs.
Features:
To create personalized emails you have the built-in drag and drop builder, custom contact fields and access to the HTML editor. It provides several options for transactional and autoresponder emails as well as responsive design templates, so you can easily pick a template for different purposes and simply customize them however you like. The platform also comes with features such as contact management, campaign creation, and tracking, as well as email scheduling.
This email service is integrated with platforms like Shopify, Salesforce, and Intercom. In addition to its impressive features, it comes with API functionalities that allow you to tightly integrate it with your existing systems or with new third-party applications. You can use features like A/B testing and segmented recipient lists to take the manual effort and guesswork out of optimizing your campaigns and targeting your ideal audiences.
SendinBlue also offers a separate SMTP bulk email marketing service which you can use to power automated or transactional emails from your WordPress site. You do not need this for email marketing campaigns, but it's a nice functionality to have if you have a large website, and you want automatic real-time content-based emails.
Price Point:
SendinBlue offers a completely free email marketing plan that lets you send up to 300 emails per day, but all your emails will have their branding. Their paid plans start from $25 per month for Lite. You can also include SMS to your account, but the pricing will vary based on your sending requirements. They have improved their premium plan to recently include more advanced features like landing page builder, live chat, sales CRM, and Facebook ads integration.
Mailchimp's all-in-one Marketing Platform, helps small businesses market smarter so you can grow faster. It was one of the first big email services to offer a completely free plan. It's also nice if you have an eCommerce store or plan on automating emails.
Features:
Mailchimp comes with an easy drag-and-drop email builder, autoresponders, segmenting contacts into groups, and simple tracking for analytics. It also allows you to set up delivery times based on the user's timezones, and you can setup segmenting based on geolocation. This service integrates with tools like Shopify, Eventbrite, Salesforce and many other platforms. It also integrated with Zapier, allowing you to do things like automatically subscribe new form responders, leads, or spreadsheet entries to a Mailchimp list.
Not only that, Mailchimp has some excellent eCommerce and email marketing tools. MailChimp offers both email templates and the ability to create your emails from scratch. Save emails you create as a new template to use in the future. Plus, you get access to features such as What You See Is What You Get (WYSIWYG) editor, subscriber profiles, third-party integrations, analytics, sending plain text emails, list segmentation, A/B testing, contact profiles and more.
You can easily integrate MailChimp with WordPress. If you are using WordPress, then see our ultimate guide to using Mailchimp and WordPress for detailed instructions.
Price Point:
Their free plan includes 2,000 subscribers and up to 12,000 emails a month. With MailChimp, you're charged based on the number of subscribers you have, so if you need a larger plan, the next level up (2,001 – 2,500 subscribers) will cost you $29.99 per month. And you will get unlimited audiences, advanced audience segmentation, multivariate testing, and comparative reporting.
An email marketing service provider that focuses on simplicity, excellent customer support and beautiful email designs, is the MailerLite email marketing service. It is designed for people of all skill levels. It empowers you to create professional campaigns from start to finish.
Features:
MailerLite can be used for creating landing pages, pop-ups, and surveys from a single dashboard. All this plus the heatmap testing makes it ideal for startups, small to mid-sized businesses and eCommerce stores. It has a drag-and-drop editor, custom HTML editor, Rich Text editor, built-in photo editing feature, newsletter design templates, and file manager. With this, both novice and professional users will find it easy to create emails, map out campaigns, and schedule messages. Moreover, it comes with an email statistics feature that will help you check essential aspects of your campaigns such as clickthrough, open, and conversion rates. This way, you can better determine how to increase customer engagement. The interface is available in 8 languages and fast 24/7 live support that makes sense for small businesses.
Another thing that makes MailerLite a great email marketing solution is that it comes with a developer API function. It's also well equipped with preview features so you can preview your email on desktop and mobile before sending it. This will allow users to easily scale the platform up or down depending on their current requirements. Their integration list continues to grow with WordPress, Zapier, Shopify, WooCommerce and many more.
Price Point:
For unlimited emails, for 1,000 subscribers, the cost is only $10 per month, and the next tier is $15 for up to 2,500 subscribers. However, the downside of this free plan is you don't have access to their newsletter templates, and the MailerLite logo is included in the footer of every email you send.
+150,000 companies all over the world use Mailjet to create, send, and track their marketing and transactional emails.
Features:
It comes with intuitive and collaborative tools to help you build effective email marketing campaigns. you'll have access to unlimited contacts, APIs and webhooks, an advanced email editor, and advanced statistics. The Mailjet interface is also simple to use, so you won't have to spend a ton of time getting familiar with the service. Since you get full API access as part of the free plan, Mailjet is suited for businesses that require technical adjustments. It offers several dozen fully-designed email templates, the drag-and-drop editor you expect, and support for transactional emails. Its free account is a great way to start your email strategy.
This email marketing tool also lets you add dynamic content so you can create personalized emails and see how it looks like from the receiver's end to ensure it's well-crafted. This helps you get much better results out of your email marketing campaigns. It integrates with REST and SMTP servers to guarantee delivery. This way, you can be sure that your emails aren't getting lost or ending up in the spam folder. You can also integrate the platform into your CRM and easily manage your mailing list through a single dashboard.
Price Point:
The MailJet free plan allows you to send 6,000 emails per month or up to 200 emails per day. Their free plan is generous in terms of capacity but a little less generous in terms of access. However, premium features like automation, segmentation and A/B testing are only available to try out for free for 30 days.
They have a Bronze plan starting at $7.49/month. It comes with all the premium features and can handle up to 30,000 emails monthly.
They also have a Crystal plan that starts at $21.95/month that can support 60,000 emails. That plan offers premium features and expert deliverability support. In paid plans, you can add anywhere from 5 to more than 15 user accounts, so marketers and developers can easily collaborate on your email marketing.
Ecommerce marketing platform Omnisend is an all-in-one marketing automation platform built for eCommerce brands. It provides everything you need for converting more of your visitors into customers.
Features:
Omnisend has a lot of exceptional features, including automation workflows, the ability to automatically add your store's products to your newsletters, and cool email add-ons like scratch cards and gift boxes. It allows you to automate email delivery using behavioral triggers and easily time your communications based on your customers' convenience. The app offers a stripped-down, minimalist drag-and-drop editor with more than a dozen pre-designed templates to choose from. You can set a color theme to maintain your branding across campaigns, and pull product listing details into your emails with one click. Even customize pre-made discount blocks. Segment building is easy with a pop-out inside the editor that features dropdown menus. You also get website tracking, 24/7 support, deep reporting, and up to 3 forms/landing pages.
You can integrate Omnisend with Zapier, opening up automation like adding new Sumo subscribers to Omnisend and updating subscribers based on new Leadpages submissions. Also, it works with all eCommerce platforms including Shopify, Bigcommerce, Magento, WooCommerce and many more.
Price Point:
The free plan offers you 15,000 emails per month and 2,000 emails per day. Though it includes only emails, but that's more than enough to support the small and medium businesses. If you need more emails per month or more advanced features you can upgrade the plan. The first option is $16 per month for 500 subscribers and 15,000 emails. The email count and pricing goes up with more subscribers.
Pro Tip: Build Your Email List.
After picking an email marketing service for your business, you just need a form builder plugin for building a subscriber email list. The LiveForms form builder can be the best choice for that task. Firstly, You don't have to have any coding skills, it has the most elegant way to build and manage any type of form simply using the Drag and Drop Method. Secondly, it comes with pre-made templates, advanced form fields and smart conditional logic. By using those you can easily build an email signup form within a few seconds.
Click here to learn more and download the LiveForms plugin. And experience the features of the best form builder plugin.
In conclusion, a good email marketing platform will let you connect with your site visitors, build long-lasting relationships, and convert them into happy customers. Hope this article helped you to decide which email marketing service can fulfill your need. Let's know which email marketing service gave you the best experience in the comment section below.