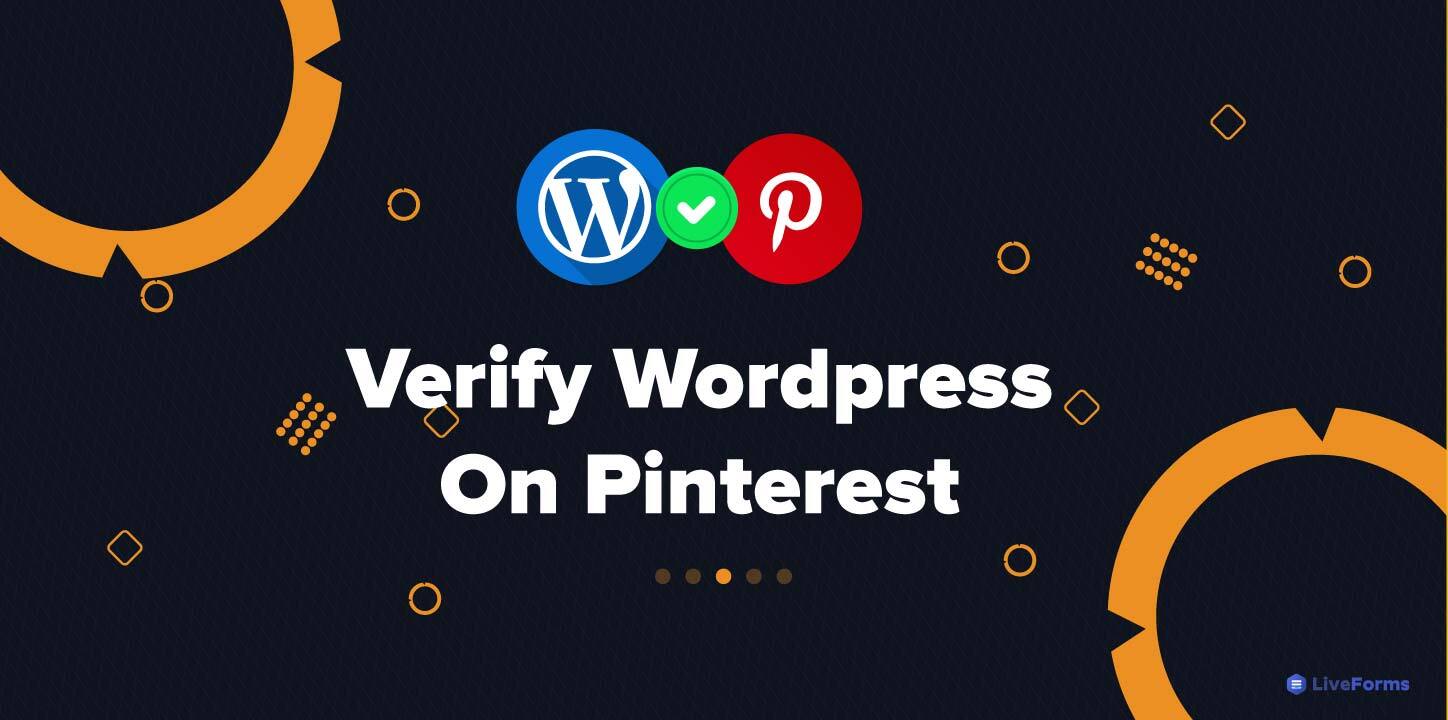 We all know, Pinterest is one of the most popular and fast-growing social media platforms that allow you to display visual content. Most of us even already have a business account on Pinterest and share our products' videos and images. But if your business account is not verified, people can share your content without others knowing where it came from.
Claiming or verifying your WordPress website on Pinterest is a great way to reach out to your potential customer. It helps you to drive more organic traffic from Pinterest to your site. Also, claiming your website can unlock features to track your analytics.
Now, are you ready to claim or verify your WordPress website on Pinterest?
Pinterest gives you multiple options to claim your website. Also, claiming or verifying a WordPress website on Pinterest is super easy. In this article, we will show you three methods to verify your website.
The Benefits of Claiming Your Website on Pinterest:
Insights are absolutely essential tools for growing your business. When you get to know how your content are performing, it becomes easier to improve them. Pinterest offers analytics on verifying your website. Pinterest analytics includes insights on your top-performing Pinterest content, impressions, engagement, saves, etc. Those insights help you refine and improve your overall strategy on the website. So, access to Pinterest Analytics is the first and most obvious benefit of claiming and verifying your website.
Moreover, once you claim your website, Pinterest will show your profile picture next to any Pins from your website. Not only that, it includes a link to your website so that pinners can access your website directly from your Pinterest account. Also, you get a little blue checkmark and a Follow button next to your profile.
Finally, you can enable rich pins for your account by claiming your website. Rich pins are that contain extra information and allow Pinterest to pull the metadata from your posts.
Claim or Verify WordPress Website On Pinterest:
As we already know, claiming your WordPress website on Pinterest is highly beneficial for your business. Its time to know how we can claim or verify our WordPress site on Pinterest. So let's begin!
Step 1: Have a Pinterest Business Account
The first step to claiming your WordPress site on Pinterest is to ensure that you have a Pinterest business account. If you don't have a business account, follow this tutorial. If you have a personal account and want to convert it to a business account, you also can do that.
Step 2: Claim your WordPress Website on Pinterest
The next step is to claim your website on Pinterest. So let's move on to the next step and see how you can easily claim your WordPress website on Pinterest.
To claim your WordPress site on Pinterest, go to your Pinterest hub page. Here you'll see an option called "Claim your domain". Once you click on the "Claim domain" button it will directly take you to the claim settings page.
Alternatively, you can open the three-dot menu in the top right corner and click on go to "Settings > Claim". Now, click on the "Claim" setting provided on the left side of the screen. Under the Claim tab, you will see the "Websites" option, select "Claim" next to the option.
Once you have clicked on the Claim button, Pinterest will display three methods that you can use to claim your website.
Add HTML tag — where you need to add an HTML code snippet to your website <head> section.
Upload HTML file — where you have to download an HTML file and upload it to the root directory of your website.
Add TXT record — where you have to add a verification record to your domain host.
In the following section, we will show you each method to verify your website so that you can choose one of the mentioned options depending on your preferences.
Step 3: Choose How You Want to Claim
As we mentioned earlier, you will get three options to verify your WordPress site. These verification options may sound pretty tricky, but don't worry – this will be super easy. Let's check how we can verify the WordPress website using those methods.
Method 1: Verify by adding HTML Tag:
Adding an HTML tag to your website is the most recommended and easiest way to verify your WordPress site. To start with this process, you need to copy the HTML tag. Hover your mouse over the text field and click on it to copy the meta tag, and then click on Continue at the bottom right. You will now see a new window where you can type your website URL for verification. We will come back to it after adding the HTML tag to the WordPress site.
There are multiple ways to add an HTML tag to your website's header. Today we will cover Five of them.
1. Using Yoast SEO:
Using the Yoast SEO plugin is the easiest and safest way to add the HTML Tag to your WordPress site. Also, most of us already using this plugin. So you don't need to install another plugin to add the HTML code.
Now, navigate to "Yoast SEO > Social > Pinterest", and paste your HTML tag into the field that says "Pinterest confirmation".
Lastly, hit "Save Changes".
2. Using All in One SEO Plugin:
AIOSEO is another SEO plugin that is hugely popular. You can also use this plugin to add an HTML tag to your WordPress site.
To add the HTML tag, go to "All in One SEO > General Settings" and then click the "Webmaster Tools" tab from the top menu. After that, click the 'Pinterest Site Verification' block and paste the HTML tag on the "Pinterest Verification Code" field.
Once selected, the verification tab will appear on the same screen. Here you need to paste the HTML and click "Save Changes".
3. Using Rank Math Plugin:
To verify your WordPress website on Pinterest via RankMath, paste the HTML code in "Rank Math > General Settings > Webmaster Tools > Pinterest Verification ID".
Once everything is set, click on the "Save Changes" button to save the change.
4. Using JetPack Plugin:
For JetPack users, go to "Jetpack > Settings". On the top menu, hit the last option, "Traffic." Scroll down to the bottom with the "Site verification" zone.
Paste in your HTML code and hit the "Save" button.
5. Using Insert Headers and Footers Plugin:
Insert Headers and Footers is a great way to add HTML tags on your WordPress header or footer.
To start with, first, install Insert Headers and Footers plugin, go to Settings > Insert Headers and Footer, then paste the code snippet provided by Pinterest into the top box and hit 'Save'.
6, By Adding HTML Code on Theme File:
Though you can add the HTML code directly to your theme file, we don't recommend to doing so.
Navigate to it by selecting "Appearance > Theme Editor" from your WordPress dashboard.
Select the header.php file from the right-hand-side menu, and then find the <head> tag. Paste your code immediately underneath it taking care not to disturb any other code.
Once you've added the code, make sure to click the Update File button at the bottom of the page to save the changes.
Method 2: Verify with HTML File
If you choose the second option, first download the HTML File.
This downloads an HTML file name starts with "Pinterest". Now you need to upload the file to the root directory of your WordPress website.
To upload the file, we're going to use FTP (we're using FileZilla) and navigate to your WordPress root folder. The root folder varies from platform to platform. In most cases, the directory will be called public_html, www, or after your site's name.
Now go back to the folder where your Pinterest HTML file is located on your computer and drag-and-drop it into your WordPress root folder.
Method 3: Verify by adding TXT Record
This is the most advanced method available to verify your WordPress site on Pinterest. Making a mistake with your site's DNS records can break your site so it's not recommended for beginners. Also, consult the documentation with your domain provider for instructions.
To start with this method, copy the "Add TXT Record" to your clipboard and click the Continue button.
Now, log into your domain host's control panel and go to the DNS record category. Paste the code you copied from Pinterest into a DNS record section, add "@" to the Host field if needed and save your changes.
Step 4: Verify your WordPress Website
To complete the verification, go back to Pinterest and click on the "Continue" button below the HTML File option.
Now type your website URL or domain name into the verification field, and click "Verify".
Once your WordPress site has been verified, you'll see a "Connected" message with a green checkmark.
As you can see it's pretty easy to claim your WordPress site on Pinterest. All you need to do is follow our comprehensive guide as a model. But if you still have any questions, drop a comment below.
If you are new to Pinterest, make sure to follow this Pinterest marketing strategy guide to grow your WordPress site traffic faster.