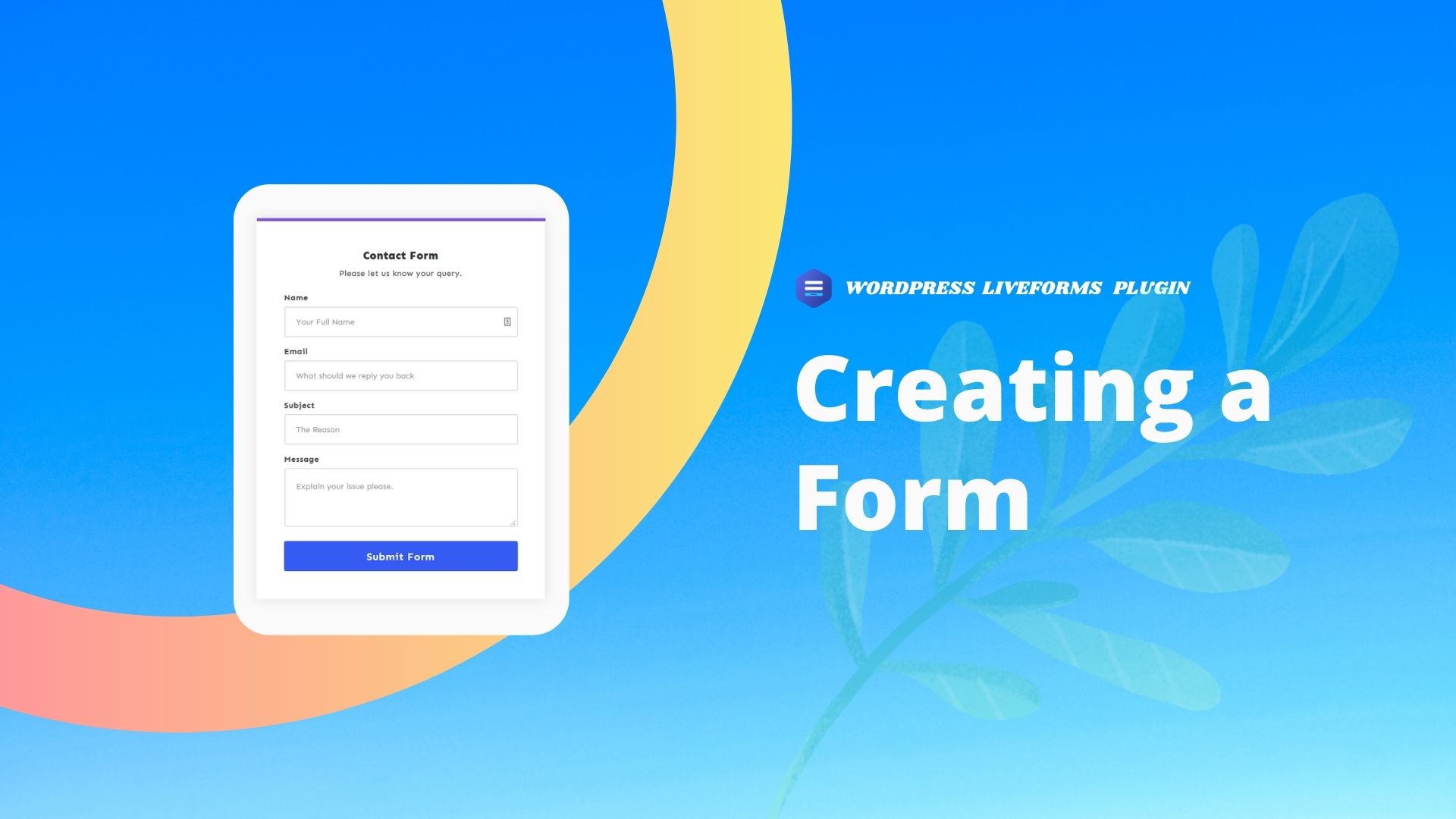 Creating a new form from the dashboard:
In shorts:
If you already have LiveForms installed, in your WordPress Dashboard go to Forms -> Add New.
Give a title and drag-drop the field name from the left side to right side form fields.
After putting everything click on "publish" from the right side, You have now created a new form with LiveForms!
Details:
In the dashboard, You can see Form menus after logging into WordPress, you will see a link that says "Add New" in the "All Forms" tab or in the menu items. Now click on that button.  (You can also click "Add New" under the "Forms" menu in the sidebar.)
You can now see a page appears where you will find all the modules of the forms. This page is WordPress post creation page with extra form fields module and settings included. You will find all the detailed below.
Adding the title:
First of all, give a nice title of the form. This should be meaningful so that you can recognize it later. This is actually the post name. You can change it later if you need any modification by editing the form post. Here, we name it as "Contact Form".
Adding a component to form field:
Now from the form field toolbox consists of commonly used, generic and advanced fields that allow you to select which field types you would like to add to your form. To add a form field to your form simply click on "plus button" in the field you would like to add and it will be added to the bottom of your form. Or you can drag and drop any field from the left side field component list to the Form fields on the right side.
Editing the form fields:
You may edit individual form fields setting by clicking on the settings icon. This will display the field editor interface and enable you to fine-tune the available field options. To reorder fields on your form, drag and drop them to arrange them in the desired order. To delete field click on red trash button. 
You can set a new label for the field name, make a note, set up new conditional logic and make the field required from here. The note will appear right after the field title on the form view. If you want to make sure that the field is being validated upon submitting then you can select any validation method from the drop-down list as field required. For a detailed breakdown of field types, See here.
Publishing the form:
After putting all necessary field(s) and logic in the form just click on Publish button.
Your form is being published now. You can view the form by clicking on view post from the top after publish/update it.
You have been successfully created a new form.