Are you looking for a way to build a form in less time? WordPress Live Form is the best solution for you in that case. It's not a form builder plugin but also provides all competence to turn the forms into powerful, data-driven applications. With this plugin, you can lock your download through a form in order to collect your user information. Also, it comes up with all capabilities to assign and manage support agents to each of your forms.
Taking this in mind, this article will be all about the complete overview of the WordPress live form.
So, lets begin!
An Ultimate Solution For Creating Any Form: WordPress Live form
WordPress Live Form plugin is the best WordPress form builder plugin for creating and handling any type of form such as contact form, subscription form, client review form, payment form, calculators, WooCommerce form etc. It specializes in creating the form in an easy and fun way using lots of exclusive options. Moreover, you can instantly preview the form while you are creating it.
Its Exclusive features are-
A Visual Form Builder
Collect Multiple Set Of Data With Repeater Fields
Has Tons Of Form Template
Allow 1-click Add On Installation
Provides Instant Form Preview
Integrated Form Validation
Detailed From Stats/Analytics
Provides Form Entries
Schedule Forms and limit entries
Has Lots Of Actions And Filters Hooks To Increase Its Extensibility
Feature Of Integrated CSS Design
Give Custom Email Notification
Applicable For Any Type Of Theme
Conditional Logic ( Pro )
Captcha Protection ( Pro )
File Upload ( Pro )
Accept Payment With Payment Field ( Pro )
Build Awesome Donation/Fundraising Form Easily ( Pro )
Offer Free Download On Form Submission ( Pro )
For enhancing your form applications and increasing customization ,WordPress Live Form comes up with lots of add-on. These are ,
Stripe For WordPress Live form
WordPress Posts
Aweber Subscription
Campaign Monitor Subscription
WordPress Sign in Form
WordPress Signup Form
MailChimp Subscription
Data Export
Email Template Editor
A Brief Introduction of WordPress Live Form
Installation & Activation:
To get these amazing features, you need to activate the plugin in your site. To do this, at first, you can download the open-source plugin WordPress Live form from WordPress.org and install it.
Or you can install it from the plugin library in your admin dashboard. For this, you need to go to your admin dashboard and go to Plugins ► Add new option and search the WordPress Live form from the plugin library, install it. Once you have finished the installation, click on the "Activate" button to activate the plugin.
Overview of the WordPress Live Form Plugin
After activating the plugin, there will appear a new option "Forms" with lots of new features in your WordPress dashboard.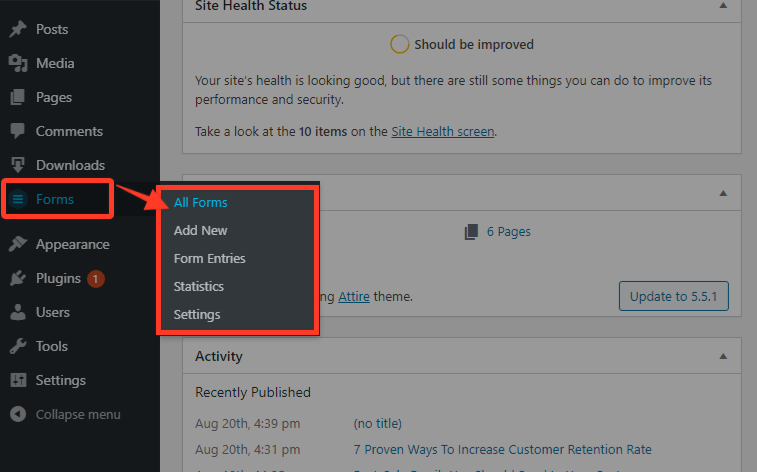 All Form: In this section, you will find all of your forms that are created for your website. Further, you can also create a new form when you need it.
Add New: You will build a new form and customize it from this option. The below screenshot gives you an idea of the amazing features of the form builder such as commonly used fields, generic fields, advanced fields etc.
Form Entries: Here, You can see the messages of the form after user submission. Also, you can manage those entries from the page and resolve, delete or hold them when needed. Moreover, you may check the full details of each form and reply to the specific entry. Not only this but also you can manage all entries of form from one page and use this as a customer support system.
Statistics: You will find a graph of statistics of all the forms of your site. Also, you can see the most submitted and most viewed form name on the left-hand side of the graph. You can also filter your data to view specific date range statistics for any form.
Settings: In this section, You can disable plugin provided form styles if you want to design it by yourself. Also, you can activate the License key of the pro version from here.
That's all. Our team hope you will enjoy this WordPress Live Form overview and it will enhance your journey for WordPress. We appreciate further comments, support or suggestions!