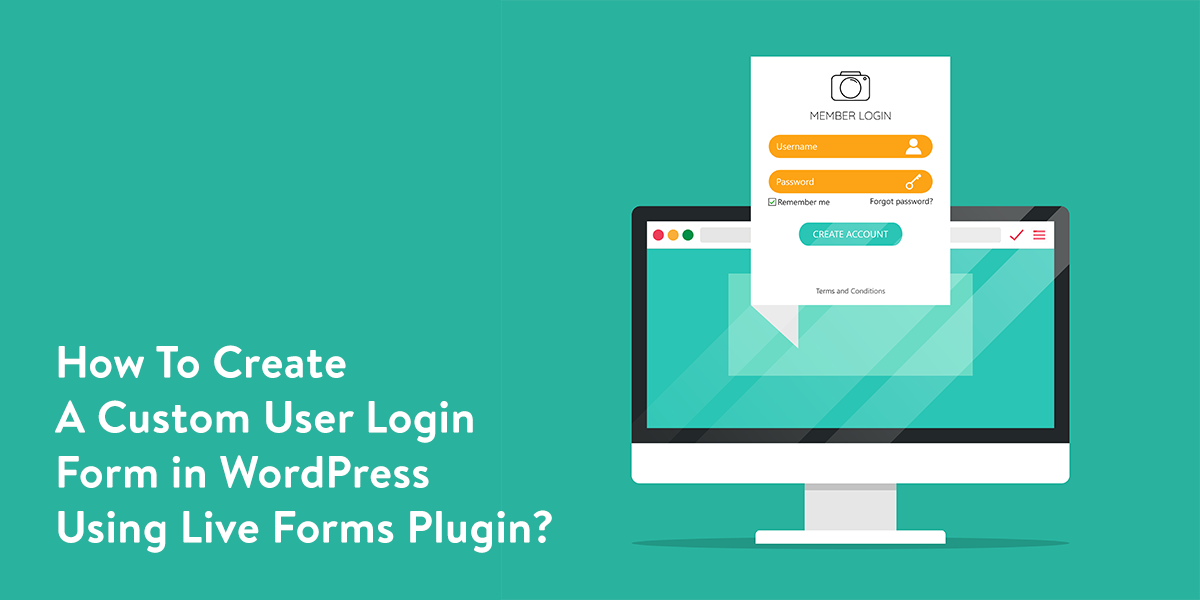 Would you like to create a custom user login form for your WordPress website?
Although WordPress allows you to create a user login form by default for reaching your customers. But Having a default login form in WordPress is not the perfect approach if you are running a membership site or a premium online store or any other forum sites.
Taking this into mind, in this tutorial we will describe how to create a custom user login form in WordPress using a plugin named "WordPress Live Form."
Why Is It Important To Create A Custom Login Form?
As we already know WordPress offers a default login page for your website, but it's not enough for your website. This login page does not allow you to customize the login form feature such as the built-in options does not allow you to add your site logo in the login form or match the form with your theme template.
Not only this, the default login form sometimes increases the login spam and makes your site insecure.
So, for all these points, a custom login form will help to get rid of the issues. Moreover, using a custom login form also adds your own branding to your website. You can personalize your login form relating to your website service.
The Easiest Solution Of Creating A Custom User Login Form
To create a custom user login form, there are tons of plugins you will get in WordPress. Some are free and some are paid that meet your requirement.
Here, in this tutorial we give you the easiest solution to create a custom login form within just a few steps using the WordPress Live form. A few benefits of WordPress Live Form are:
the ultimate solution for creating any type of form
customize your form with the drag and drop features
offers a tons of Form Template
For knowing more about the plugin, we can read our post about the complete overview of WordPress Live Form plugin.
How To Create A Custom User Login Form In WordPress?
Well,there are the few steps you have needed to create a custom login form for your website. These are-
Install and activate WordPress live Form
Install and activate the Login-Live Form addon
Create your custom Login form
Step 1: Install and Activate WordPress live Form
In the first step, you have to install and activate the WordPress Live Form plugin from your plugin library. You may also read our documentation about how to install a plugin in WordPress for more details.
Step 2: Install and Activate the Login-Live Form addon
Now after activating the plugin, download the Login Form Add-On from the Add-ons download page. Once you have downloaded the addon, simply upload the add-on by going to the "Add New" plugin menu in your dashboard. Here, you need to upload the zip file of the addon and install it. After installing it, it's time to activate it in your dashboard. One great news of this addon is you don't need to change any setting or set up to work the addon.
Step 3: Create Your Custom Login Form
Now, once you have activated the addon, you will notice a new menu Login Forms will appear in your admin panel. Now, go to the Forms ► Login Forms menu. Then, click on the Add New button for creating a custom login form.
After clicking on the Add New button, you will see the two options- LiveForm Form and Map Fields.
LiveForm Form: Here, You can pick the Live form that you want to import into the data form.
Map Fields: Through this field, you can map the custom fields to the available form fields of your login form. It means with it you can choose which form fields should use in your User login data.
After selecting these fields, click the Save Button to save the changes.
That's it. Now you have created the custom user login form for your users.
Conclusion
In summary, A custom user login form plays a key role both for your users and your site reputation. Also, it adds an extra layer of security to your WordPress website.
Hopefully, this article will help to understand how you can create the custom user login form for your WordPress website using the WordPress Live form plugin. For some support related to the topic, feel free to comment below.
We appreciate further comments, support or suggestions!